Home > Explore Syria > Shahba
Shahba
This site shares Bosra the importance of all Roman sites all over Syria. 87 km south of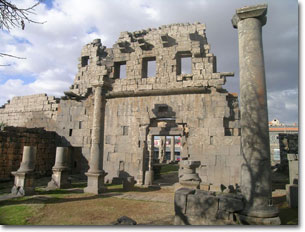 Damascus, between the volcanic region of Ledja to the west and Jebel al-Arab to the south east we see Shahba. A Curious town that is, from an archaeological point of view, the only town in the Roman Hauran - apart from the capital, Bosra - built to a grid pattern, and the walls are broadly oriented towards the cardinal points of the compass. It is also the only "new town" in Syria established according to a purely Roman plan (the others being Hellenistic, Nabataean or Pre-Hellenistic in origin and modified by Romans). The architectural style adopted in Shahba was not found elsewhere in the Hauran which largely lacks buildings of the mid third century.

It's square in shape and the remains of its Roman walls give it a much more imperial feel than other towns in the area. It was founded by Philip the Arab, who was Emperor from 244 to 249. The purpose of the project is not entirely cleat bit it was perhaps intended as a symbolic capital to serve as a monument to Philip's family and receive his ashes. It is likely that the design wasn't completed on Philips death and the project was abandoned. It was only in the last century that the town was re-populated with the influx of Druze from Lebanon.

The Temple:

The simple but impressive temple was probably erected in honor of Philip's father, Julius Marinus. This consists of an almost square chamber interrupted only by a broad and lofty entrance doorway on the north side. On the other three sides, groups of blind arches are set in the walls, each consisting of a broad recess flanked by barrow arches. The doorway is impressive in its restrained molding. The two brackets which flank the door were intended for statues, one of Philip's fathers.

The Theater: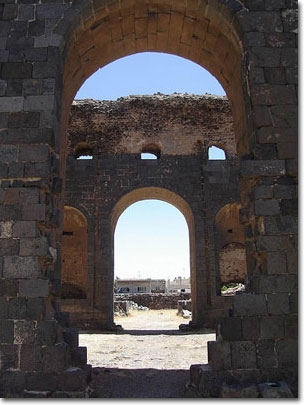 The theater is small, rather stolid and without decoration but is one of the best preserved in Syria. The vaulted passages and access to the seating are well preserved, along with the lower rows of seats and the stage front. This is the last of the Roman theaters constructed in the east.

The baths:

The baths are on a remarkable scale for a town of this size and the only identifiable remains in this style in the Hauran. The interior walls were clad with marble and alabaster and the domes faced inside with painted plaster. The plan was complex: to the south, a series of three rectangular rooms; two round caldaria in the center; and a long room with semi0circular ends to the north, the tepidarium.

In the street running alongside is the museum of mosaics which contains some of the best examples of the art of the late Roman period in Syria. There are other odd remains here and there, for example; the five Corinthian columns.