Located 80 km south of Damascus on the west edge of the volcanic wilderness area. In its historical and religious associations this is perhaps one of the most remarkable buildings in Syria.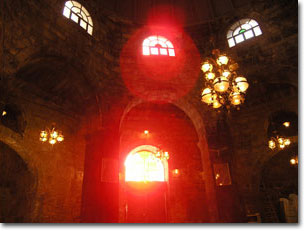 The Greek Orthodox Church of St. George is one of the oldest churches still in use in Syria, its architecture has been largely unaffected by its changing fortunes. It is as interesting as the chapels in the pilgrimage centers in Seidnaya and Maalula. The signs of the previous fortification of the building attest to the difficulties of maintaining the community in the face of fourteen centuries of often tumultuous change.
The church standing on the site of an ancient temple is dated to 515 from the long inscription in the lintel over the main door. Architecturally, the 6th century Church of St. George is notable as one of the examples of a basilica constructed on an octagon-within-a-square plan, surmounted by a cupola. The external shape is a rectangular. The line of the basic square being extended to the east to accommodate a chancel with apse and two flanking side-chambers. This extension is enclosed in three sides of a hexagon protruding from the ease wall. The 10 m dome, covered by a metal shell, follows the pointed ellipse shape still seen in mud houses in northern Syria. The somber stone arcaded interior was probably once covered with painted plaster but the effect is still impressive.
The internal octagon is formed by cutting off the corners of the square, filling the angles with semi-circular chapels. Within this octagon enclosure, a second octagon (9 m wide) is formed by eight angle piers carrying soaring arches of impressive simplicity . the masonry rises above these arches, rapidly transforming itself from an octagonal to a circular cross-section until it culminates in the tall dome atop a drum pierced with eight windows. The main entrance (west) comprises three arched doorways.
A second 6th century chapel is found close. The Greek Catholic Church of St Elias is dated by inscription to 542. The basic shape is a rare example for Syria of a cruciform plan oriented east/west with an apse protruding to the east.